Land Lovers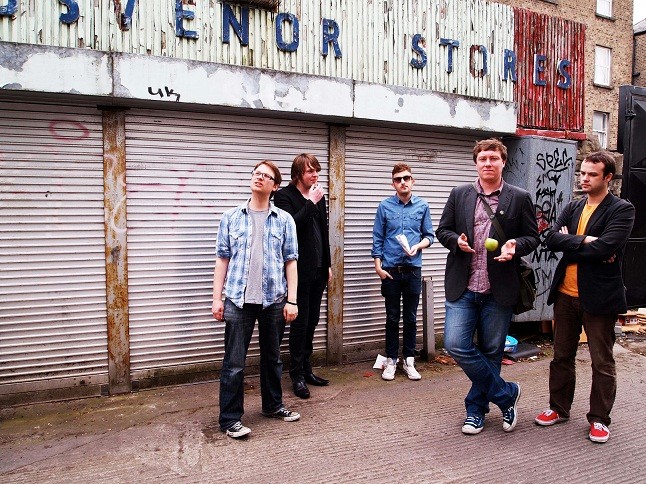 The Dubliner band Land lovers come to us with a pop music style that  far from been something standard they however involve  a return to a well done pop, with simple songs but full of harmony, very melodic and catchy. Land lovers have undoubtedly  in their roots the legacy of this country, Ireland, a country that have given us so many good musicians.
Band Links:
Pádraig Cooney - Guitar & vocals
Ciarán Canavan - Guitar & vocals
Shane Murphy - Bass
Cormac Hughes - Keyboards & vocals
Brian Lynch - Drums
Elvis Costello & The Attractions, The Lovin' Spoonful, Television, The Chills, very old pop.
Land Lovers are a band from Dublin in Ireland, who play in a melodic, wordy style that might not be actual pop music but is something of the sort.

Formed in 2008 as the solo project of Pádraig Cooney, who self-released the album Romance Romance, the full line-up now includes Cooney, Ciarán Canavan, Brian Lynch, Cormac Hughes and Shane Murphy. A new album will be released in October 2011.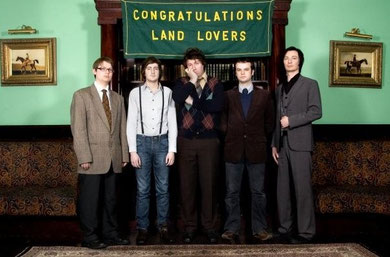 Land Lovers helped to establish the Popical Island collective with fellow Dublin-based bands Groom and Yeh Deadlies, formalising a co-operative relationship that had built up over time.

The band has released the Immovable Feet EP; contributed a song to the much-loved Popical Island #1 compilation; played nationwide tour dates including appearances at Electric Picnic, Castlepalooza, Hard Working Class Heroes and the IMRO showcase; and released a limited-edition 10-song Yuletide Miscellany. Cooney wrote and sang the Popical Island Showband's Christmas single, The High Line, while other band members formed part of the 20-piece wall of sound.
Studio Albums:
Romance Romance (2008)
Yuletide Miscellany (2009)
Confidants (2011)
EPs:
Immovable Feet (EP, 2009)
Singles:
Compilations:
Popical Island #1 (2010)
Popical Island #2 (2010)
Land Lovers - Number 1 Communique
Interview with Land Lovers
1. How did the band begin?
The band met at Manumission in Ibiza, or was it at law school? I must ask our band historian.
2. How would you define the sound of the band? 
We play fussy pop music for non-fussy people. We aim always to please (ourselves).
3. Talk us about your last work.
Our last work is our next work! We have just finished recording our second full-length album, to be released in September. We've spent a lot of time on it: beginning in summer 2010, we've been working in short bursts as batches of songs have appeared 'finished' to us. I think this has allowed us to give a lot of care and attention to each song. It's intended to be a detailed introduction to the band, an attempt to crystallize all the aspects of our songwriting in a coherent record. It's supposed to be 'serious'. And it's supposed to be catchy and fun! When I started writing for it, I had a vague notion of incorporating elements of tango and songs from 1950s Hollywood musicals. I think the latter stayed in there somewhere, among all sorts of whims and the recurring features of our music. Lyrically, it's mostly about secrecy and death.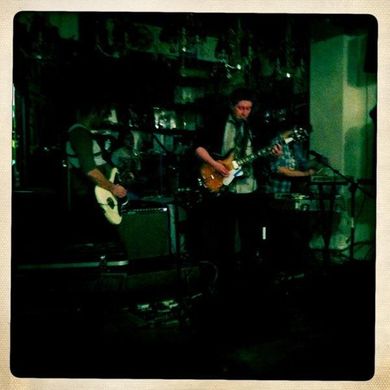 4. How are your concerts? What can we find there that we wont find on your studio records?
You'll find less of some things, slightly less harmonies, less diversionary tactics! You'll find more awkward stage banter, and you'll find more hilarious mishaps. If you see us in Dublin, you might find some people singing along. I HOPE SO!
 5. What do you think about the music industry and what do you think is your place within it?
I'm sure the music industry is a lovely thing and I'd like to meet it someday. To me, the 'music industry' is the DIY culture I'm familiar with, a network of bands of all sorts doing stuff off their own backs, working really hard and helping each other out. People being creative for that end alone, the pure enjoyment of creativity, and the camaraderie of playing music with others. Now that's idealistic, but there's a lot of reality in there.
All submmited material Copyright Land Lovers