Big City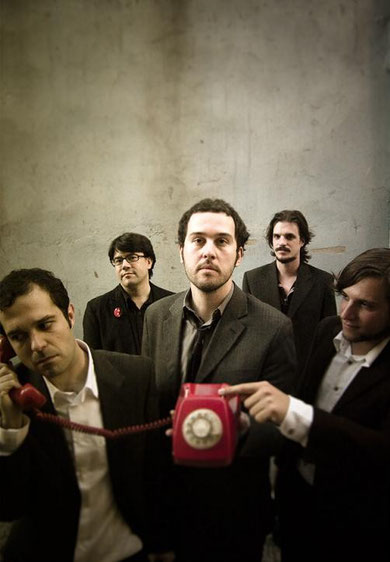 Javier Vicente, Miguel Yrureta, Hugo Lasala, Borja Lasala and Francho Perez are the band members of Big City. Formed in the spring of  1999, this band from Zaragoza just released their third studio album Celebrate it all.
Artist Websites:
Band Members
Javier Vicente (Vocals/Guitar/Keyboards/Percussion)
Miguel Yrureta (Bass)
Hugo Lasala (Guitar/Banjo)
Borja Lasala (Acoustic Guitar/Keyboards/Vocals/Percussion)
Francho Perez (Drums/Vocals)
Influences
Centr0-matic, Wilco, Beach Boys, Midlake, Dinosour Jr
Biography
Formed in the spring of 1999, this Zaragoza-based band just released their third LP on the tenth anniversary of the first gig of the group.

In the early years, the band was looking for its own personality, passing from a distorted classic American rock in the beginning to a lasting love by most baroque psychedelic, country, pedal effects, and the most extensive instrumental landscapes.

With this palette of sounds they recorded their first LP in 2003, entitled "A Spring Of Summers" (Grabaciones En El Mar, 2003), which was edited in the U.S. through HHBTM records in 2004. The album was well received by critics and a modest impact on the specialized public, which allowed the band to go on tour through different Spanish cities and to share stage with Aislers Set, Echo & The Bunnymen, and Jon Spencer.

After a turning point as support band  of Wilco (May 2005), the recording sessions for their second album began, ending in El Puerto de Santa Maria by Paco Loco in January 2006. In the fall of that year they released "Call An Ambulance" (King Of Patio), later edited by Naked Man Recordings. The same label released an EP on 12 " vinyl, which was accompanied by a concert in London.

In 2008 the composition of Big City songs began, more personal, lyrical and timeless to date. Two of them specifically, The Smiths and Finland, were released in a 7" single in July 2009, by Eureka Naked Man Recordings, published only in white vinyl.

Their third album, Celebrate It All, was recorded in the loft of the group in Zaragoza and in Estudios Brazil (Madrid) and mastered at Golden Mastering (Ventura, CA). It has been just edited by I+D Music on CD and gatefold vinyl.
Studio Albums: 
Celebrate It All (I+D Music, 2010)
          (King Of Patio, 2006 - Naked Man Recordings)
          (Gelmar, 2003 - HHBTM 2004)
Double CD:
The Brugal Years (Gelmar, 2009) 
EP:
Ex-Snowman - Vinilo 12" (Naked Man Recordings, 2007)
Singles:
The Smiths / Finland - 7"

Vinyl 
          (Naked Man Recordings/Eureka, 2009)
Listen to Big City
Recommended tracks: The Smith, Ghostbusters.
Interview with Big City
1. How did the band begin?
Big City started out in spring 1999. In the beginning we were Francho (drums) and myself. We had been playing for the usual local bands but we wanted something of our own, do our own thing without giving a damn about anyone else. In 1997 we saw Luna live in Zaragoza, from that day on I wanted to be Sean Eden. I ignore what Francho wanted to be but we met the day after at the local shop and bought some instruments, effects, and so on. We were looking for a serious guitar player and found Hugo, who had - and still has - one serious haircut. So he made it. He's a great guitarist, also. Time brought the rest of the band, and since 2003 we have this 5-piece unit going on.
2. How would you define the sound of the band?
I don't know. It's kinda complex. Brings together lots of folk and pop melodies but with an eye for psychedelia and rock. Also there are a few playing styles happening at the same time. Some of us learnt to play on their own, some wear glasses and attended musical theory, piano & harmony lessons, stuff like that. Big City, in a way, seeks beauty in every song; this brings lots of arrangements sometimes, but also a way more naked approach to the song other times. Onstage there's a lot of instruments laying around, and we try to play them all along the set, so musically it's very rich, though sometimes it's also sort of a challenge knowing what's going on. It also depends on the lyrics or which message you are trying to deliver to the audience. In Spain some of them just don't give a fuck about the message, thank God a lot of other people actually do, but in any case it's different when you play abroad. Definitely.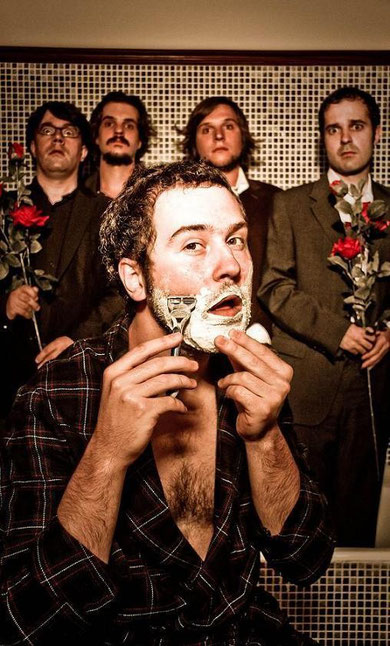 3. Talk us about your last work.
Celebrate It All is a record full of doubts and reflections of someone who does not stand still, and finds the time to think about it all just when he's on the move. It is not a record with the excitement and hopes of A Spring of Summers (2003) nor with the fears of Call an Ambulance (2007). It's a record that observes, experiments, thanks and celebrates good and bad, because everything makes you fell alive and unique.

Musically, in Celebrate It All, the references aren't so much about the songs but about the atmosphere and singularity of much beloved records which, like Celebrate It All, were made during times of change: 'Third' by Big Star, 'Happy Sad' by Tim Buckley, 'Tonight's The Night' by Neil Young, and also contemporaries like 'A Ghost Is Born' by Wilco and 'Fort Recovery' by Centro-Matic.
4. How are your concerts? What can we find there that we wont find on your studio records?

I've never been to a Big City gig neither have I seen us recorded or anything, it's weird but I don't want to do it; so it's hard to tell but the Spanish press tends to write favourable things about our live show, that's great. They use to call us "the Spanish Wilco", I guess that's good. We like Wilco's gigs a lot, what can I say. We just want to deliver that same message I was talking about before, it's present in the records, and live we want to deliver it just the same, maybe more intensely, but without sacrifying the arrangements or anything, I think that's what the Wilco comparison is all about. The last album was recorded mostly live, too, so it's being easy and rewarding to do it onstage, we never use loopers or samplers, we do it all live. We're not thieves.
5. What do you think about the music industry and what do you think is your place within it?

I don't mean to be rude, but we don't pay much attention to "the scene" or whatever you want to call it. We just couldn't care less. In this sense we don't know which our place is, where we stand, where we're going, or where the heck we come from, we leave that to the press, we just make the songs, record and play them live, build our instruments, and drink after the shows. Those are the things we're interested in.
All submmited material Copyright Big City