This list doesn't intend to be a full list of the best albums of 2012. I do not believe on that kind of lists. 

When we mention bands/artists and their works, it is impossible that we keep in our memory all the albums that we listened during the year. We certainly remember those ones that we really liked, but we tend to fix our attention on those albums that have been mentioned more often or just the last releases. We can browse certain lists and see if we refresh our memory, but the true is that we forget about many of them.

By other part, our taste on music is very subjective and it can be different just depending on how we feel on a certain day. One person could make many different lists even based on a same criteria, just by the way that person feel that day, and of course depending on the albums that person remember on that day.
Best albums lists are just a way to catch the attention to articles that we know for sure that they will be read by many people. They tend to be uncompleted and very unfair, almost never including all the genres, and just including easy listening music ones: rock, pop and few more.  

This is just a list of albums that I liked this year. I am sure that it is not complete.To have a complete list of what I liked, visit our archive, and what ever you find in there it will be my true list for 2012. Everything I posted is everything I liked.
   Best Albums 2012, long list in alphabetical order
A.C. Newman - Shut Down The Streets
Air - Le Voyage Dans La Lune

Alabama

Shakes - Boys and Girls

Allo Darlin'- Europe
Alt-j - An Awesome Wave
Animal Noise - Run Loose
Ariel Pink - Mature Themes
Bat for Lashes - The Haunted Man
Beach House - Bloom

Best

Coast

- The Only Place

Beth Orton - Sugaring Season
Bob Dylan - Tempest
Breton - Other People's Problems
Calexico - Algiers
Caspian - Waking Season
Cat Power - sun
Chromatics - -kill for love
Citizens! - Here We Are
Cloud Nothings - Attack On Memory
Cold Speck - I Predict a Graceful Expulsion
Crystal Castles - III
Damien Jurado - Maraqopa
Deerhoof - Breakup Song
Devin - Romancing
Dinosaur Jr. - I Bet on Sky
Dirty Three - Toward The Low Sun
Django Django - Django Django
Dry The River - Shallow Bed
Father John Misty - Fear Fun
First Aid Kit - The Lion's Roar
Foals - Tapes
Frankie Rose - Interstellar
Gary Clark Jr. - Blak and Blu
Glen Hansard - Rhythm And Repose
Grimes - Visions
Grizzly Bear - Shields
Guided By Voices - Let's Go Eat The Factory
Holograms - Holograms
Howler - America Give Up
Jake Bugg - Jake Bugg
Japandroids - Celebration Rock
Jimmy Cliff - Rebirth
Julia Holter - Ekstasis
Keaton Henson - Dear
Kimbra - Vows
King Tuff - King Tuff
Kishi Bashi - 151a
Lambchop - Mr. M
Leonard Cohen - Old Ideas
Lower Dens - Nootropics
Lucy Rose -  Like I Used to
Mark Lanegan Band - Blues Funeral
Metric - Synthetica

Metz

- Metz

Michael Kiwanuka - Home Again
Mystery Jets - Radlands
Neil Young & Crazy Horse - Psychedelic Pill
Orbital - Wonky
Patrick Watson - Adventures In Your Own Backyard
Patti Smith - Banga
Paul Banks - Banks
Paul Weller - Sonik Kicks
Perfume Genius - Put Your Back N 2 It
POLIÇA - Give You The Ghost
Porcelain Raft - Strange Weekend
Purity Ring - Shrines
Races - Year Of The Witch
Rah Rah - The Poet's Dead
Ramona Falls - Prophet
Rolo Tomassi – Astraea
San Cisco - San Cisco
Sauna Youth - Dreamlands
Screaming Females - Ugly
Sharon Van Etten - Tramp
Shearwater - Animal Joy       
Sigur Rós - Valtari
Sleigh Bells - Reign Of Terror
Soundgarden - King Animal
Swans - The Seer
Tame Impala - Lonerism
The Avett Brothers - The Carpenter
The Big Pink - Future This
The Brian Jonestown Massacre - Aufheben
The Cast Of Cheers - Family
The Flaming lips - The Flaming Lips And Heady Fwends
The Gaslight Anthem - Handwritten
The Lumineers - The Lumineers
The Maccabees - Given To The Wild
The Men - Open Your Heart
The Mountain Goats - Transcendental Youth
The Shins - Port Of Tomorrow
The Vaccines - Come Of Age
Thee Oh Sees - Putrifiers II
Toy - Toy
Tribes - Baby
Trust - TRST
Two Wounded Birds - Two Wounded Birds
Ty Segall - Twins
Wild Nothing – Nocturne
     *My favourite album this year
It is always funny to see the new trends on album covers. With Instagram and Pinterest you can find some of them very fast, but it takes still a while for these trends to really arrive to album covers art. We have already past the bubble and street lights period, and thanks to God the retro-family one too.
Welcome to the double exposition one, the psycho collages, the coloured fluids and the minimalist dots and vectors. While home Photoshop arrangements are the leader of the first two kinds, last lyric videos trend on YouTube are maybe responsible from the last. In any case, there are always good works and my favourites are still the ones made by illustrators and true paints.
Here are some of the album covers from 2012 that I like and I want to share with you.
It is impossible for me to make a list of debut artists. There are hundreds. And good ones there are even more! ;) These are just some famous bands and artists that had their debut album this year and have been featured in almost all the media. These are bands and artists that I like. But Jungle Indie Rock is committed with new artists and new talents, none of them here, and all of them in our mind.
Alabama

Shakes

Alt-J
Breton
Charli XCX
Citizens!
Cold Specks
Cut Ribbons
Delilah
Devin
DIIV
Django Django
Dry The River
Dog Is Dead

Echo

Lake

Father John Misty (as FJM)
FIDLAR
Gary Clark Jr*
Glen Hansard
Grimes (after 4AD)
Holograms
Howler
Imagine Dragons
Io Echo
Kishi Bashi
Jack White
Jake Bugg
Keaton Henson
King Tuff
Kimbra
Lana del Rey
Lianne La Havas
Lucy Rose
Metz
Michael Kiwanuka
Niki & The Dove
Opossom
POLIÇA
Purity Ring
Races
Rah Rah
Rachel Sermanni
San Cisco
Spector
The Cast Of Cheers
The Lumineers
Toy
Tribes
Trust
Two Wounded Birds
Ty Segall Band
     *My favourite new artist this year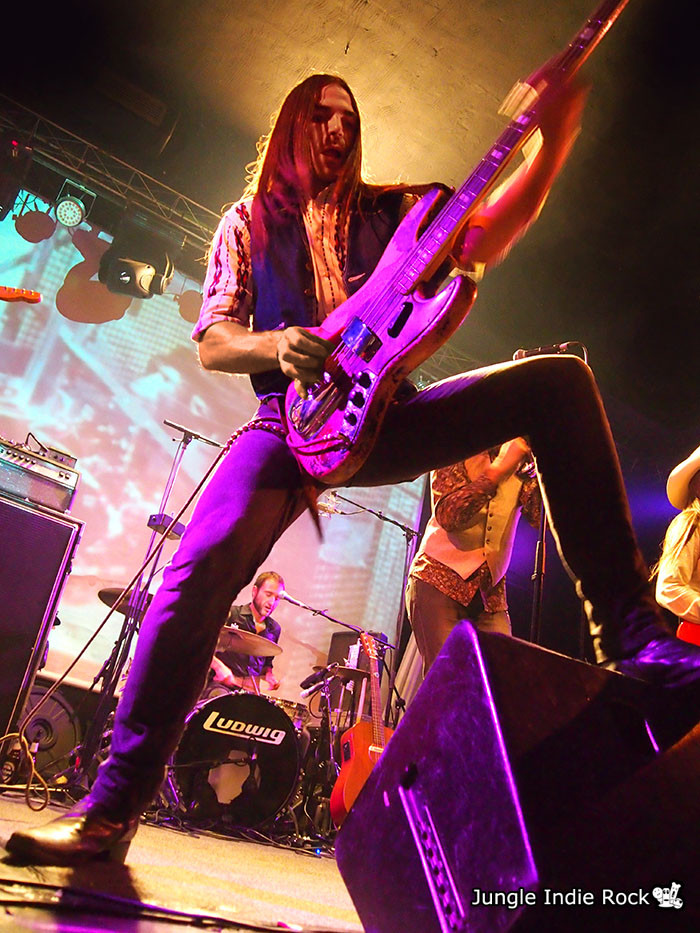 Best gigs I have attended in 2012, by date:
Ryan Adams (USA). Walt Disney Concert Hall. Los Angeles. February 18, 2012
Neuman (SPAIN). La Lata de Bombillas. Zaragoza, March 24, 2012
The Dodoz (FRANCE). Polifonik Sound Festival. Barbastro. May 12, 2012
Delorentos (IRELAND) + Aurora (SPAIN). Moby Dick, Madrid. May 3, 2012
Andrew Bird (USA). Teatro Circo Price. Madrid. June 12, 2012
Mikal Cronin (USA) + Julia Holter (USA) + Apparat (GERMANY). Dia de la Musica. June 23, 2012
Regina Spektor (RUSSIA/USA). Teatro Circo Price. Madrid.  Teatro Circo Price. July 9, 2012
Austin TV (MEXICO) + Wilhelm and The Dancing Animals (SPAIN). Siroco. Madrid, Sept 21, 2012
Corizonas (SPAIN) + Mirémonos (SPAIN). Qubo Fest. Guadalajara. Nov 10, 2012
Swans + Cats On Fire. Primavera Club. December 7-8th 2012. Matadero, Madrid (SPAIN)